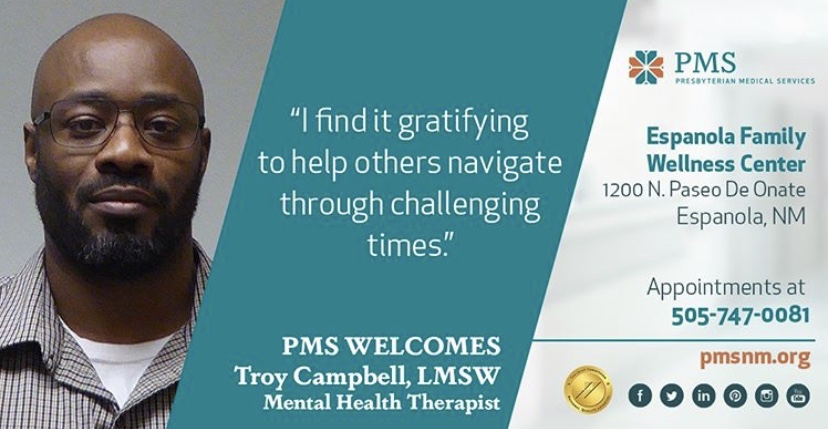 The community is invited!
Grammy's House, in partnership with Artesia Public Schools, is pleased to host
 Troy Campbell for Domestic Violence Awareness Month. 
He has a background in law enforcement, military, and mental health. 
Date

: Wednesday, October 2, 2019
Place

: 612 N. 8th St., Artesia, NM 88210 at the Artesia Center
Time

: 5:30pm-7pm

Wednesday, October 2nd and Thursday, October 3rd, during the day, Mr. Campbell will also speak with students from Artesia schools about bullying, suicide prevention and domestic violence.
For questions call Celina Bryant 703-6165
Troy Campbell has been employed in the social services profession since 2012 and is a licensed Master of Social Work (LMSW) and Certified Clinical Trauma Professional (CCTP). Since receiving his MSW from New Mexico Highlands University, he is working on completing his Doctoral Degree in Clinical Behavioral Health through Arizona State University. Along with mental and behavioral health, Mr. Campbell has additional training and interest in organizational consultation, domestic violence awareness, suicide prevention, veteran supports, mediation, community crisis intervention and research directed at the development of early intervention and prevention in our school and in the community. He has presented on several topics including crisis, trauma and abuse involving children and adolescents, forensic interviewing of children, mandatory reporting of child abuse, mental health supports, and suicide prevention.
Prior to his career in social services and behavioral health, Mr. Campbell served as a US Army Veteran, just before serving in a variety of roles in the criminal justice field for a decade and half. While employed in the criminal justice system, Mr. Campbell served as a member of the Crisis Intervention Team, Critical Incident Response Team as a negotiator, and worked very closely with community partners in providing mentorships to at-risk youths and families.
Mr. Campbell is also a member of the International Association of Trauma Professionals (IATP), a certified Mental Health First Aid Instructor for Youth, and a Suicide Prevention Instructor. Mr. Campbell currently works as a Mental Health Therapist for a local Federally Qualified Health Center (FQHC) where he provides counseling and therapeutic intervention for young people ages 5 to 21, where he runs a boy's group that teaches young men ages 10-17 multiple life-changing topics, to include bullying awareness and life skills. He is the former Operations Manager for Esperanza Shelter, where he served on the risk management committee and provided threat, safety and operational assessments of the residential shelter, as a consultant. He is currently the President of the Board of Directors for the Crisis Center of Northern New Mexico, where in addition to governance, he is actively engaged in Bullying Awareness and Education in the communities that the agency serves.
When he is not busy working, Mr. Campbell enjoys riding his motorcycle, working out at the gym and participating in constructive discussions with members of his in the community, including in podcasts. As part of his community service work, Mr. Campbell founded and presides over the Bikers Against Domestic Violence of New Mexico group, which engages in fundraising, domestic violence awareness, mentoring as part of a program to promote healty relationships in the community.